Located in the northeastern part of Guangxi Zhuang Autonomous Region, between latitude 248 and 251 north and longitude 1095 and 1100east, it covers an area of 4195 square kilometers and has a population of 1.2 million. Guilin Located in a temperature zone of subtropical climate, an average temperature is 20 with an annual rainfall of 1890 mm.
 Guilin is a historical and cultural city as well as a tourist wonderland of world fame. It literally means "cassia tree forest", named for the local cassia trees, whose scent wafts through the city in autumn.
 "Guilin boasts the most beautiful scenery under Heaven" is a saying popular among its admirers. There are green hills and fields, forests of peculiar pinnacles and the beautiful Li River winding through the city. From Guilin to Yangshuo, the river travels 83 kilometers with both shores decorated with "numerous green hills popped up out of the ground," a poetic and picturesque environment in which one cannot but feel relaxed and refreshed.
 The history of Guilin dates back to over 2,000 years ago. It became a town of strategic importance in south China when the first Emperor of the Qin Dynasty ordered digging a canal to link the Xiang River (which flows into the Yangtze River) and the Tan River (which flows into the Pearl River), thus connecting two of China's major waterways. Over the last few thousand years, generations of literary writers and poets have chanted out numerous pieces of verse and prose in its praise, many of which have been passed down to the present day thanks to various carvings and inscriptions on precipices. The picturesque city is graced with humanistic flavor by ruins of prehistoric cultures of about 40 to 50 thousand years ago, stone tombs of the Ming Dynasty, inscriptions and sculptures on rocks scattered around in every corner of the city, and by an ancient town kept intact. Guilin is a typical karst landform area. Several hundred million years ago, it was a sea here, under which there were accumulated limestone layers a few thousand metres thick. In the movement of the earth's crust, rocks deep down below the sea surged up and the sea gave way to the land. Then, about another 70 million years had passed before the landscape of Guilin developed, with the help of the natural elements of wind and rain, into a wonderland of weird shaped and isolated peaks and bizarre and fantastic-looking caves amidst limpid waters and nice fields.
 Guilin is also a multi-national city with a population of 1.25 million of 11 ethnic groups of the Han, Zhuang, Miao, Yao, etc. The diversity in dresses and social customs of different ethnic groups offers colorful folklife and attracts large numbers of tourists from home and abroad.
 Guilin, now a world famous tourist city, attracts large numbers of tourists from the world over. The increasing number of tourists has promoted the rapid development of tourist facilities. Today, there are over 20 air routes connecting Guilin with Hong Kong and major domestic tourist cities.
 Guilin is a clean city with charming waterfront and ever-changing moods. Hills and parks mottle the urban landscape. A few sights, like Elephant Trunk Hill, Wave-Subduing (Fubo) Hill, and the port area, are illuminated at night. And the many small restaurants offer particularly Li River cuisine, such as fish, eel, frog, snail, shrimp and snake.
 In addition to the landscape tour in Guilin, tourists today are offered added attractions in the neighboring areas, including a virgin forest in Longsheng, the Ancient Ling Canal in Xing'an and floating on Li River, etc.
Lijiang River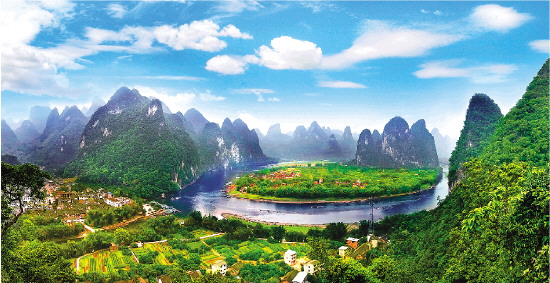 Elephant Nose Mount Scenic Spot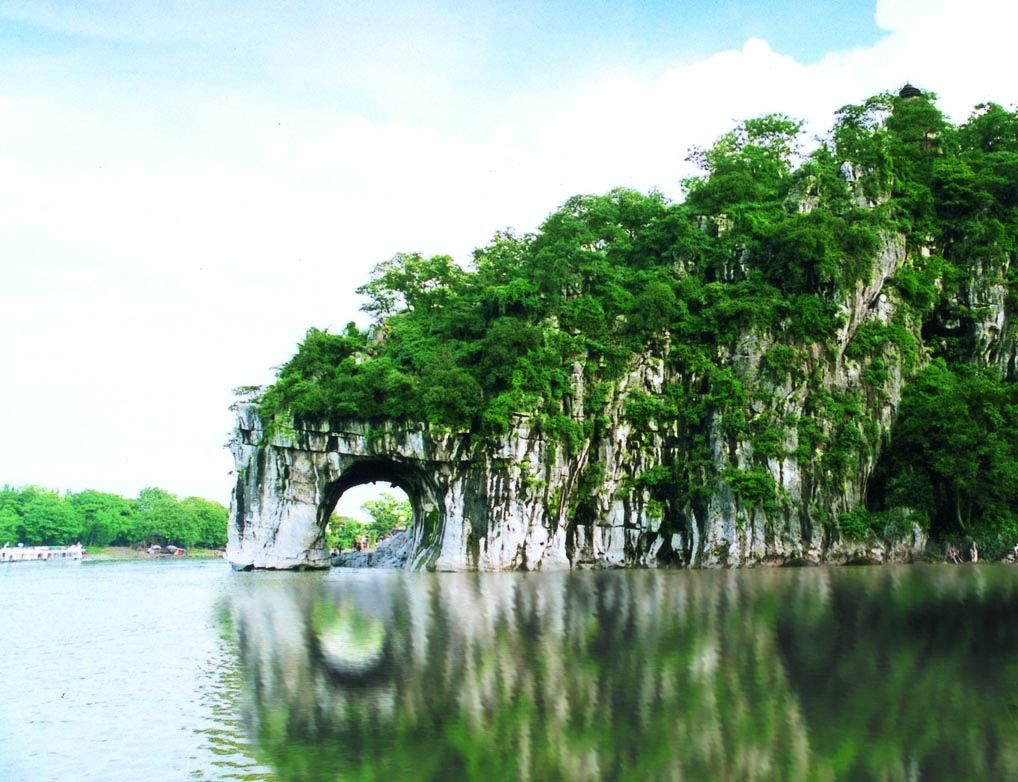 Two Rivers and Four Lakes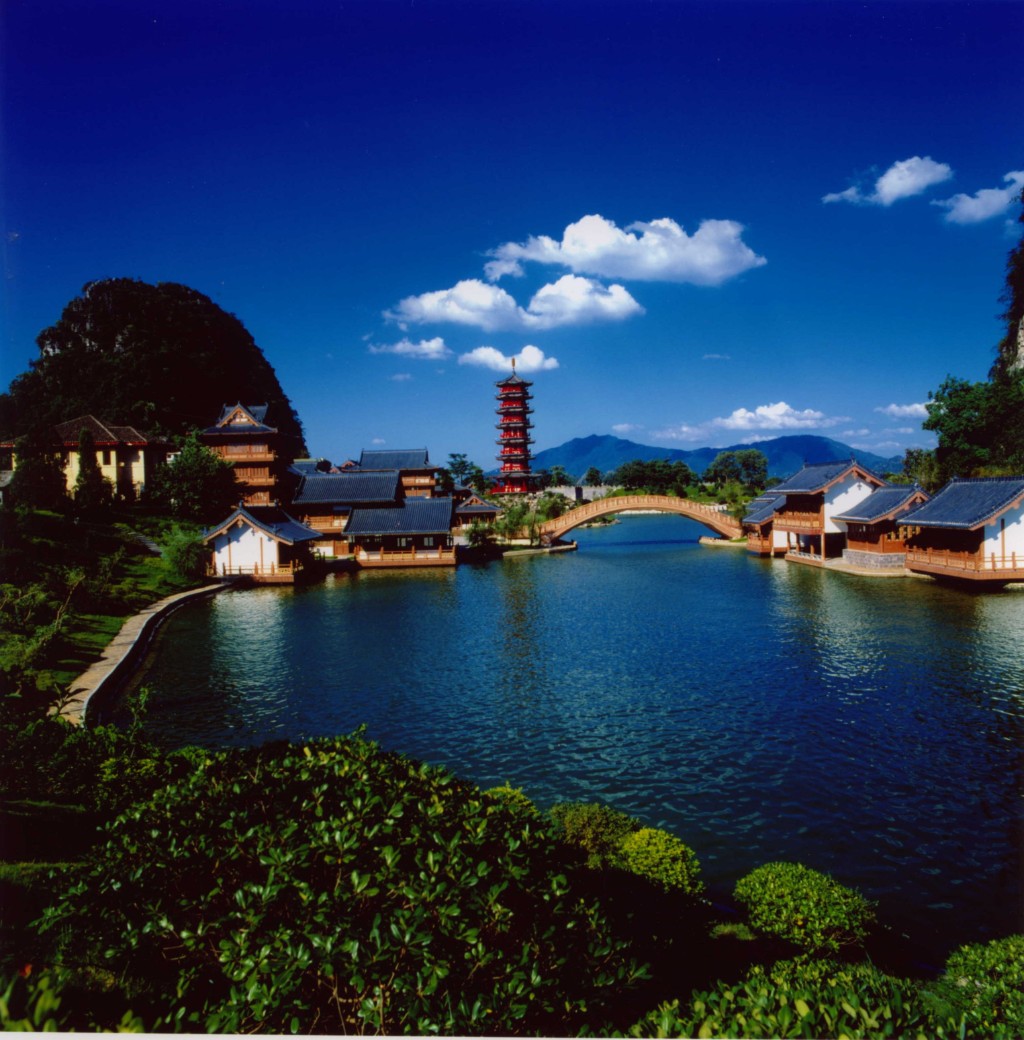 Yangshuo Scenic Spot