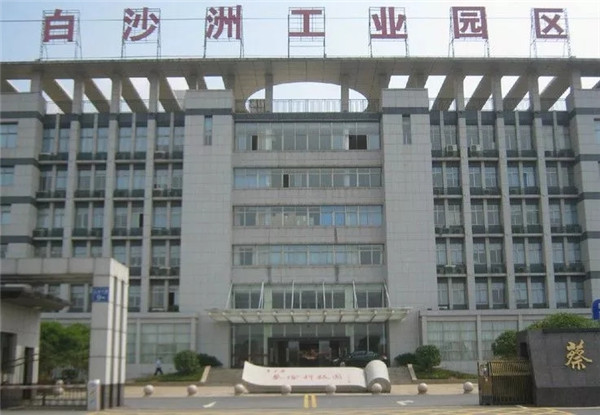 Baisha/Shenzhen Industrial Park is the first industrial park co-constructed by a local municipal government in Hunan and a coastal region of China. It was established as a provincial important industrial park both by Hunan provincial government and Shenzhen municipal government for further regional economic cooperation and industry transfer from Zhujiang River Delta. Although it has two different names, it is administrated by the same staff of Baisha Industrial Park Administration Committee.
The park is located at Baishazhou, Yanfeng District of Hengyang and the upper reaches of Xiangjiang River. Approved and titled by the National Science and Technology Ministry, the park is also a national base of electricity transmitting and transforming equipments of "the National Torch Plan". It aims mainly to develop advanced equipments manufacturing and modern logistics, focusing on machinery, electronics, light industry, new building materials, foodstuff and medicine. The total planned area of the park covers 15.3 KM2, and the area utilized at the first stage is about 5 KM2.
Baisha/Shenzhen Industrial Park is neighboring to Hengyang's old industrial base―Baisha Industrial Zone. In the north of the park there are some big modern enterprises, namely, TEBA, Asimco Hengyang, Golden Cup Electrical Apparatus Corporation and Yanjing Beer Corporation. The park has its advantages of unique excellent transportations. It is not far from the central urban part of Hengyang city, and is surrounded by Outer Ring Road, National Highway No.107, and the Provincial Highway No.214, and it takes less than 8 minutes from the park to drive to the entrances of Hengkun Expressway(Hengyang to Kunming), Jingzhu Expressway(Beijing to Zhuhai), Tanheng Expressway(Xiangtan to Hengyang), Hengwu Expressway(Hengyang to Lingwu County), Hengshao Expressway(Hengyang to Shaoyang), Hengyan Expressway(Hengyang to Yanling County) and Hengyue Expressway (Hengyang to Yueyang).
The main urban roads, Zhengxiang South Road, ZHengyang South Road and Baisha Broadway have been extended to the park. It is only 6 Km to Hengyang Railway Station where Jingguang Railway (Beijing to Guangzhou) joins up Xianggui Railway, which connects Hunan and Guangxi. Wuguang High-Speed Railway passes through the east part of the city and it only takes about 20 minutes to reach Wuguang Railway Station. Hengyang South Railway Station on Xianggui Railway and Hengyang South Bus Station are also located near the park. Dingjiaqiao 1000-Ton Wharf, whose single-load lifting capacity ranks second in inland Chinese rivers, is only 2 KM from the park. Hengyang Airport being constructed in Yunji of Hengnan County lies to the south of the park, and it takes only 2 hours to get to Changsha's Huanghua Airport by car. The park has good supporting facilities and infrastructures. The road network of the first stage is being constructed orderly. Three main roads, namely, Baisha South Road, Jinye Road and the middle part of Industrial Road have been completed and are open to traffic. Another 2 transverse roads and longitudinal roads, namely, the rest part of Industrial Road, Hongyuan Road, Changtang Road, Gaoping Road, Jinlong Road, Zimu Road, Juyuan Road and Xinmin Road, were completed and opened to traffic in 2008. Zhenwu Substation, the largest 220 KV Substation in Hunan with a capacity of 540,000 KVA, is also located in the park. The supply of water, gas, communicating system and broadband network are available for the enterprises in the industrial park. Baishazhou Logistic Park being constructed is of the first grade of logistic nodes in Hunan and will provide the enterprises efficient logistic services.
The Standing Administration Committee of Hengyang Baishazhou/Shenzhen Industrial Park is an organ under Hengyang Municipal Government. Following the principles of open management, closed production and one-stop services, the committee can exercise the right of approving investments and provide some other governmental services.
In 2006, 16 agreements of investments in the park were signed. The Project of Yanneng Power Materials, a coordinative project for electricity transmitting and transforming industry, was completed and now provides support of raw material for power industry. Asimco Hengyang Subsidiary launched in the park a 400,000,000 Yuan project called "European Ⅲ Fuel Injection System" in possession of its own intellectual property rights. Representing the advanced modern manufacturing industry and new model of industrialization, Hengyang Sino-Steel Hengzhong Casting and Forging Corporation began to carry out its project of "Heavy Sets of Equipments for Metallurgy and Mines" in 2007. During the period of "the Eleventh Five-Year-Plan", according to industry developing direction, the park will have its characteristic sections covering the industries of modern manufacturing (electricity transmitting and transforming equipments & cars and spare parts), electronics, light industry, new building materials, foodstuff and medicine. The park administration committee has reached an agreement of strategic cooperation with AVIC Shenzhen. The two sides will register a joint-venture company to carry out unified planning, constructing and attracting investments and management. The first stage of cooperative development includes land expropriation and housing demolition and relocation, infrastructure construction, land-leveling and standard workshop building, construction of facilities for public services and living, and the development of commercial real estates projects approved by Hengyang Municipal Government. The two sides will co-introduce the rising industries with bright prospects. Based on the present economic situation, location advantages and resources, the park will analyze the market demand of the areas in Central China and West China, and accept some industries with brand advantages from Zhujiang River Delta, aiming to gradually complete industry agglomeration of relatively perfect industry chains with the leading enterprises as its core. Efforts will not be spared in building the park into a new industrial park with first-class technology and good public living facilities, and the future of the park undoubtedly will meet the standards of environment protection, ecology and sustainable economy.
For more information:http://www.hybsz.gov.cn/ch/index.asp