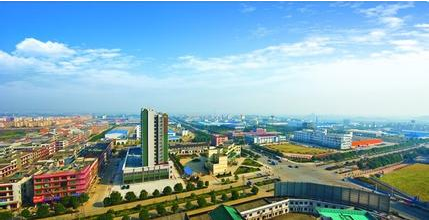 Hengdong Industrial Park, with a planned area of 19.82 km2, is located in Dapu Village of Hengdong County. Lying between Hengyang City and Hengdong County, it is about 20 km to the former and 22 km to the latter. Several expressways and highways intersect here, including Jingzhu Expressway (Beijing to Zhuhai), Yanshao Expressway (Yanling County to Shaoyang City), Hengzao Expressway (Hengyang City to Zaomupu Village of Yongzhou), Hengda Expressway (Hengyang City to Dapu Village) and Provincial Highway S315. Ships of Thousand-tonnage on the Xiang River can sail directly to Shanghai along the Yangtze River. Both Jingguang Railway and Wuguang High-speed Railway have passanger-stations and freight-stations near the industrial park. The land of the park is flat, and there is few local residents on it, which is approriate for industrial development.
After the establishment of the park, it has been benefiting from the uniquely excellent transportational and geographic conditions as well as the preferential policy of attracting foreign investments and developing local industry. The industrial agglomeration effect becomes more and more obvious, and now the park has become an important platform of Hengdong County to attract foreign investments on industry. Now in the park it has formed an industrial structure mainly of chemicals, metallurgy and machinary. The industrial park produced a gross value of industrial output of about 3.12 bilion yuan in 2009.
Since the establishment of the industrial park, it has put much emphasis on the improvement of infrastructure and the optimization of its investment. At present the park has met the basic requirements of availability of roads, water supply, electricity, communication and internet as well as the levelling of the land. So far the park has formed a transort network which consists of the main roads of Ningguo Road, Funing Road, Yongwang Road and Wangyuan Road, which add up to 5 kilometers long, and the beautification, lighting, and afforesting and greening have been fulfilled. In terms of water supply, the park has laid water pipes of 2695 meters, and a maximum supply capacity of 25,000 tons per day. As for electrical power, a 110,000-volt substation and two 10,000 volt power supply lines have been completed and put into use to ensure the power for industrial production and domestic use. From now on, there will be more investments on the infrastructure in the park. An urban road of 8 kilometers long, which has a planned investment of 115,400,000 yuan, will be built, connecting the southern end of Ningguo Road and Nanmukou Entrance of Hengda Expressway. Also, about 90,000,000 yuan will be invested to build a sewage treatment plant with a daily treating capacity of 20,000 tons sewage. About 52,000,000 yuan will be spent building standard workshops of 40,000 m2..
In recent years, it has cauhgt the opportunities to develop industries, focusing on machinary, metallurgy and chemicals. At present, there are 9 machine-making enterrises and 13 metallurgy enterprises represented by Zhaoyang Heavy Industry Co., Ltd. and Liyuan Power Machinary Co., Ltd. In 2009, metallurgy has an output value of 2.43 billion yuan and made a contriubution of tax payments of 79.6 million yuan. The processing materials mainly include tungsten, molybdenum, coper, lead and zinc. Among the metallurgy enterprises, Jingyu Copper, Jinghu Copper, Helin Copper and Linxin Copper has formed an annual production capacity of anode copper sheets of 250,000 tons. Hunan Hengdong Nonferrous Fluorine Chemistry planned to invest 0.33 billion yuan, building four production lines aiming at an annual production capacity of 72,000 tons of fluorine salt. Now three production lines have been put into production. An annual output value of 1.5 billion yuan is anticipated when all the lines are available. Chuangda Nickle Iron Vanadium Metallurgy has invested 0.22 billion yuan arrangedv in two stages with a planned annual output value of 1.6 billion yuan.
Since the park was established, we have adhered to the belief of "Industrial Prosperity", attracting investments of 3.8 billion yuan in agreements and by now 1.5 billion yuan has been put in practice. So far about 33 projects were completed and 3 projects being consturcted now. This year 4 rojects with their total investments of 100 million yuan are being negotiated. The first one is the joint project together by China Minimental Corporation and Hunan Non-ferrous Metals Corporation with a planned annual capacity of 200,000 tons. The total investment is between 2 and 2.5 billion yuan, covering an area of 500 mu with an annual output value of 15 billion yuan. The second project of 0.3 billion yuan is invested by Dongguan Baocheng Shoes Corporation. The project, which is covering an area of 1500 mu, aims to build 100 production lines and to offer 40,000 jobs. The third project involves the overall relocation of Jianxiang Diesel Factory Venturing Base. It has 30 projects covering an area of 1500 mu and the relocation will be completed in 2 years. The fourth one is by Mr. Zhao Gencheng who invested 0.16 billion yuan on a project to produce prestressed steel cords and sheets with an annual production of 0.36-0.40 billion yuan.
In the past 6 years, with great efforts, Hengdong Industrial Park has laid a solid foundation for further development. In the future we will spare no efforts attracting more investments, strenghening the key industries and improving their competitive ability.