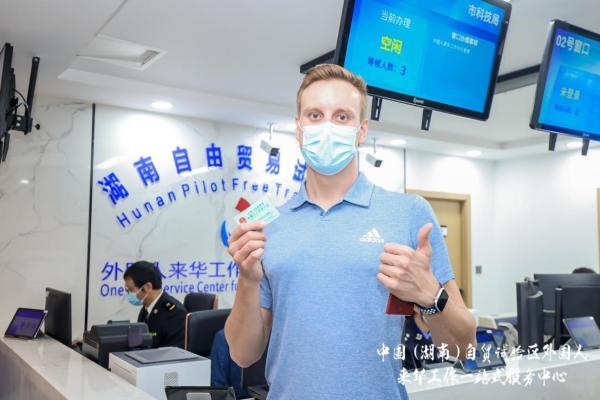 It used to take thirty working days for foreigners to apply for health examination certificates for international travel, work permits, and residence permits in China. However, it now only takes ten working days. On October 29th, the first one-stop services center for foreigners working in China in China (Hunan) Pilot Free Trade Zone started operation in the Changsha area. Vice Governor of Hunan Province He Baoxiang attended the unveiling ceremony.  
The service center integrates three business windows concerning customs, science and technology, and, public security affairs for foreigners working in China. It is the first of its kind in China, which facilitates the handling of health examination certificates for the international travelers, work permits, and residence permits together.
"We had to go to the Changsha Customs Hunan International Travel Health Care Center, the Changsha Municipal Science and Technology Bureau, and the Population and Exit-entry Reception Hall of the Changsha Municipal Public Security Bureau to apply for certificates of health examination for international travel, work permits, and residence permits. But now we can get these documents at a service center. It's so convenient," said Tim Armstrong from New Zealand when he applied for a residence permit at the service center.
Approval methods have been reduced by half, handling procedures optimized, and work processes streamlined. Manuals such as the "Government Service Guide" and "Practical Tactics" have been produced. Appointments and government services are accessible online to provide high-quality, convenient, efficient "one-stop" service for foreigners starting a business in Hunan.
The Hunan Pilot Free Trade Zone will continue its efforts in multi-department integration and information platform construction to reduce administrative issues and promote innovative measures such as integrating "multiple windows into one" and even "three certificates into one". 
Chinese source: hunan.gov.cn