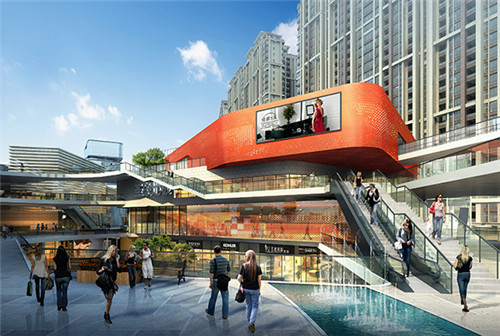 Near the new building of Hengyang Yanfeng District Government, Hengyang Mei Mei Shi Jie Commercial Plaza is located at the intersection of Zhengxiang South Road, a main street of Hengyang, and Oujiating Road, Yanfeng District, with total coverage of 145,118.1 square meters and investment of over three billion yuan.
This project is built jointly by Best World Group and Red Star Macalline, a domestic leading household enterprise, with total building area of 700 thousand square meters. The project includes home-furnishing-themed multi-functional commercial centers, like Red Star Macalline Global Household Mall, International Building Material Mall, International Building Material Brand Block, Creative Design Convention Center, office building for international business, Five-Star Hotel, SOHO department with exquisite decoration, luxury high-rise residence, riverside commercial center, supermarket, catering and entertainment center, pedestrian square and children' s park.
The project is divided into three phases. It was started in May 2013, focusing on building 42-thousand-square-meter building material block 65-thousand-square-meter Red Star Macalline home furnishing mall and two high-rise residence with coverage of 60 thousand square meters. It is predicted that the International Building Material Brand Block will open for business in October 2014, and the whole project will go into operation in October 2015.
This project will provide 12 thousand jobs and realize profits and tax of 150 million yuan, which has profound meaning on advancing commercial and modern service industry in south Hengyang.