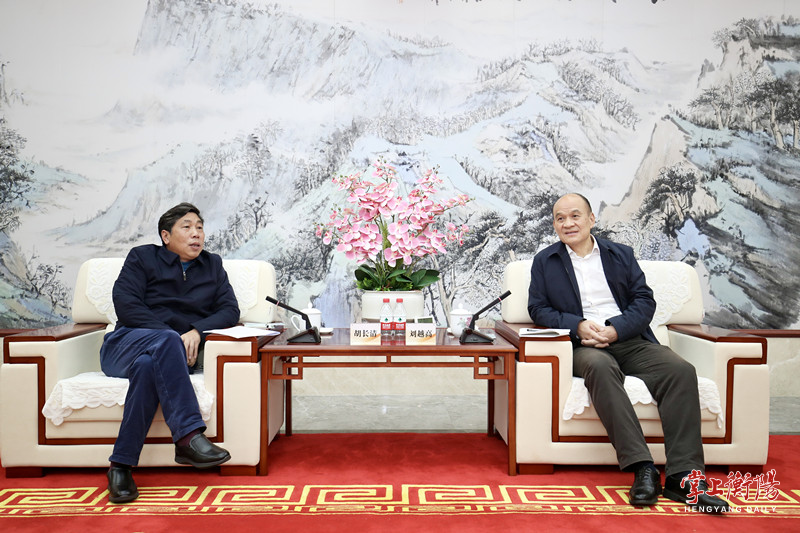 On the morning of December 1st, Liu Yuegao, secretary of the Municipal Party Committee, met with Hu Changqing, secretary of the Party Leadership Group and director of the Hunan Province's Forestry Bureau, and his delegation to conduct in-depth exchanges on promoting high-quality development of forestry work.
Liu Yuegao extended a warm welcome to Hu Changqing and his delegation, and thanked the Hunan Province's Forestry Bureau for its long-term help and guidance to Hengyang. Liu Yuegao said that in recent years, Hengyang has thoroughly implemented Xi Jinping thought on eco-civilization, and made certain achievements in strictly implementing the forest chief system, promoting afforestation, strengthening resource protection, and accelerating industrial development by taking "scientific forest cultivation, intelligent forest management, industrial rejuvenation and legal forest protection" as the main line. In the next stage, Hengyang will continue to promote high-quality forestry development by taking the "forest chief system" as the starting point. It is hoped that the provincial forestry bureau will continue to care about and support Hengyang's forestry work.
Hu Changqing said that the Hengyang Municipal Party Committee and the municipal government have always attached great importance to the forestry work, and made remarkable achievements in afforestation, resource protection and the development of oil tea camellia industry. It was hoped that Hengyang would focus on the "forest chief system", expand and strengthen the oil tea camellia industry, strengthen forest fire prevention and expand urban and rural green space. The provincial forestry bureau will continue to provide support in policies, projects, funds and other aspects to jointly build a beautiful Hengyang.
City leaders Huang Li and Yin Peiguo attended the meeting.
Translator: Jing