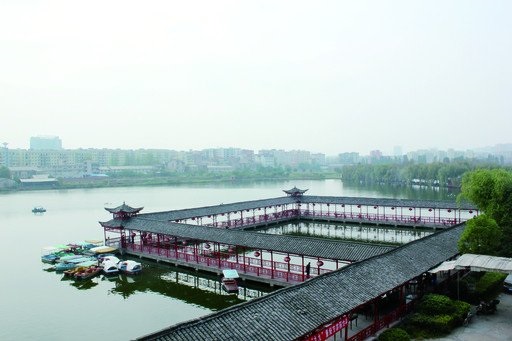 Linghu Park, build by Hengyang Binjiang New District Investment co., LTD., connects with Jianglin Road and Linhu Avenue under planning in the east and faces Qingquan Road in the south, situates at the west of XiLin Road and the north of Hengchow Avenue.The total investment of project has completed 50%, and the clearing of lakebed mud and sewage treatment is in progress.

Standing on the viewing platform of Linhu park, with visions broad and lake sparkling, the park presents warm-toned yellowish under the sunshine.It is in the early spring that the vegetation in front of spacious viewing platform is lush, all kinds of leisure facilities are clean and comfortable, the breeze blow gently and the citizens going spring outing in the park are enjoying a rare fine weather.As you can see from Linhu park, the mechanical equipments in the distance are being operated methodically and many citizens have begun to enjoy benefits on th well-built viewing platform in the park.

It is known that the total area of Linhu park is 2465 mu, among which the water area is 800 mu, the project planning and design includes landscape zone with themes like Hunan Guild Hall, county life in Linhu county, Hengchow paradise, the wild geese and causeways, fishing boat in thr evening, the blue moon of Linhu and aquatic park and the like.At present, the total investment of project has completed 50%, and the park is expected to open in 2017.In the future, a park with the biggest water area in Hengyang city will be built here.