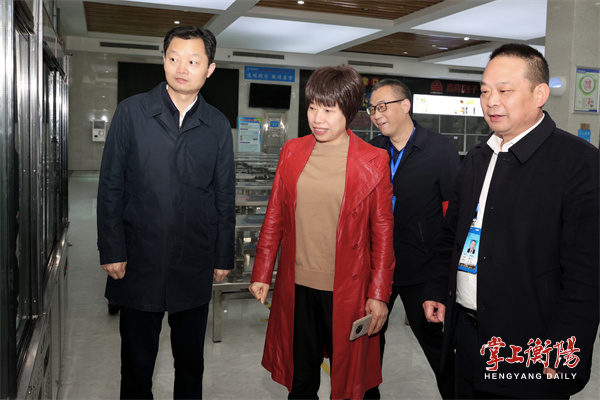 On the morning of March 24, Liu Lihua, chairman of the Municipal Committee of the Chinese People's Political Consultative Conference, went to Hengnan County to supervise and inspect the food safety of the campus. She stressed that we should resolutely implement most rigorous standards and require the strictest supervision over the food sector and the harshest penalties and accountability for violations of food safety in schools, strictly apply the food safety system, firmly build a strong food safety defense line, comprehensively improve the quality of supervision, and make efforts to ensure the "a bite of safety" of teachers and students.
When she came to Hengyang Technician College in Santang Town, Liu Lihua carefully checked the dining environment of the canteen and the kitchen operation room, and learned more about the safety management of the canteen management, ledger of food procurement, food storage as well as processing, cleaning and disinfection, food sample preparation and so on. She supervised the implementation of food safety responsibilities. She pointed out that food safety is too important to be taken lightly. It is necessary to further implement the local management responsibility of food safety and the main responsibility of the schools, establish and improve the work system of "daily control, weekly identification and monthly scheduling", and implement various measures for food safety in schools.
In No. 5 Middle School of Hengnan County, Liu Lihua learned more about the school scale, teaching staff, hardware facilities, school culture and so on. She checked the kitchen environment, disinfection facilities, management system, hygiene supervision. Liu Lihua stressed that food safety in schools is closely related to the physical and mental health of students and it concerns thousands of families. It is necessary to create a good dining environment, scientifically prepare nutritional recipes, meet students' learning and growth needs, make students eat comfortably, and reassure parents.
Xie Ke, Secretary-General of the Municipal Committee of the Chinese People's Political Consultative Conference, participated.
Translator: Jing