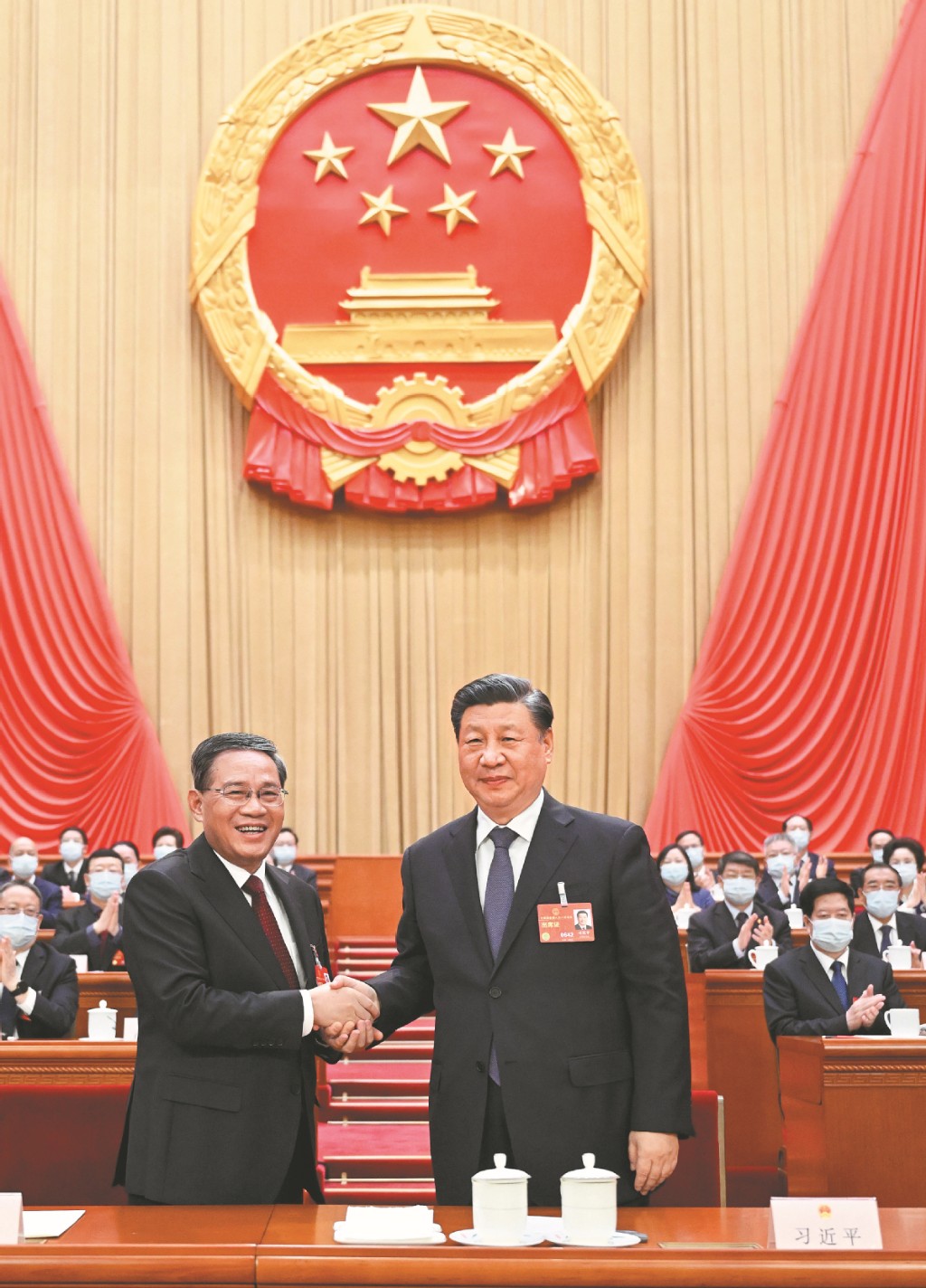 President Xi Jinping (right), who is also general secretary of the CPC Central Committee and chairman of the Central Military Commission, shakes hands with Li Qiang, after Li was endorsed as premier at a plenary meeting of the first session of the 14th National People's Congress in Beijing on Saturday.
Senior officials have strong expertise, rich local-level experience, analysts say
China has ushered in new leadership of its State bodies in accordance with the procedures of the annual session of the national legislature, fueling expectations that the new lineup will shore up the recovery of the world's second-largest economy and advance reform and opening-up amid global headwinds.
Upon nomination by President Xi Jinping, Li Qiang, a member of the Standing Committee of the Political Bureau of the Communist Party of China Central Committee, was endorsed as Chinese premier on Saturday morning at a plenary meeting of the first session of the 14th National People's Congress.
Xi, who was elected president by unanimous vote by the national legislature on Friday, signed a presidential order to officially appoint Li, who born in July 1959, as premier.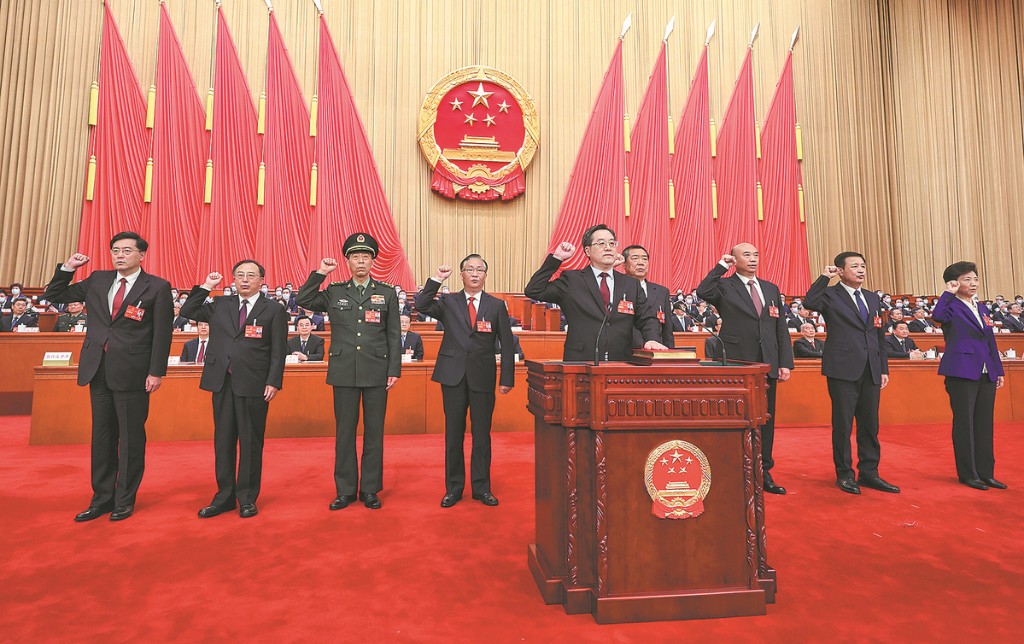 New leadership of the NPC Standing Committee, the top legislative body, and of the National Committee of the Chinese People's Political Consultative Conference, the top political advisory body, was also elected on Friday.
The NPC endorsed the nominations made by Premier Li on the appointments of four vice-premiers and five state councilors.
On Sunday, Xi also signed a presidential order to appoint senior officials, including the vice-premiers and the state councilors as well as ministers, governor of the central bank, auditor-general and secretary-general of the State Council.
Ding Xuexiang, a member of the Standing Committee of the Political Bureau of the CPC Central Committee, was appointed a vice-premier.
He Lifeng, Zhang Guoqing and Liu Guozhong, all members of the Political Bureau of the CPC Central Committee, were also appointed vice-premiers.
Li Shangfu, Wang Xiaohong, Wu Zhenglong, Shen Yiqin and Qin Gang, who is also foreign minister, were endorsed as state councilors.
Analysts said the new lineups of State bodies were characterized by their rich work experience at local levels and strong professional expertise, which will help them navigate the growth of the economy through various headwinds, including geopolitical tensions.
Li, the new premier, had served as Party chief of Shanghai and Jiangsu province and governor of Zhejiang province. He worked in Zhejiang, a province with a robust private sector, for over 30 years.
The four vice-premiers all have decades of work experience at local levels, with Zhang and Liu having served as Party chiefs of Liaoning and Shaanxi provinces, respectively.
Key State officials, including vice-premiers and state councilors, make a public pledge of allegiance to China's Constitution at the first session of the 14th NPC on Sunday. [FENG YONGBIN/CHINA DAILY]
Lu Qingguo, an NPC deputy from Hebei province, said he believes that the rich expertise of the new leadership, especially at local levels, will contribute to a better policymaking process.
He said he expects the new lineup of senior officials to move forward with reform and opening-up and rely on innovation to drive high-quality growth.
"More reform is needed to spur the enthusiasm of various sectors," Lu said. "China also cannot afford any backpedaling in its strides of opening-up, especially when it seems that the international environment is not favorable," he said.
President Xi reaffirmed the nation's support for the private sector while taking part in a joint group meeting with national political advisers on March 6, calling for steps to improve the business environment, remove institutional barriers to level the playing field for private businesses, and protect their property rights and interests.
Lu, who is also board chairman of Chenguang Biotech Group, a private enterprise, said a strong emphasis of the new central government leadership should be fulfilling the expectations of the private sector and "enabling them to pursue growth without any worries". He highlighted the need to offer private businesses more assurances through legislative efforts.
Wang Huiyao, a former counselor for the State Council and president of the Beijing-based think tank Center for China and Globalization, said the newly appointed senior officials had grown their expertise in the country's reform and opening-up, which started over four decades ago.
"They are familiar with the market economy and the private sector and have rich experience working at local levels. We have reason to believe that they will play a greater role in contributing to the Chinese path to modernization," Wang said.
Qin, the foreign minister and state councilor, also honed his expertise as Chinese ambassador to the United States, Wang added.
"China's reform and opening-up is an endeavor to which there is no end," Wang said. "The key for the nation is to focus on its domestic agenda while remaining committed to promoting economic globalization."
Veronika S. Saraswati, a researcher at the Jakarta-based Center for Strategic and International Studies, said the new Chinese government can elevate its economy well above the impact of COVID-19, and carry on with win-win solutions, which are much needed at a time when global development faces unilateralism and protectionism.
"China really focuses on research and development. That is why China's development is very scientific, which has even surpassed European countries," she said.
Syed Ali Nawaz Gilani, secretary-general of the Pakistan China Friendship Association, Khyber Pakhtunkhwa Province, said that China is expected to advance the Belt and Road Initiative, which will provide more opportunities for other economies.
Leonardus Jegho in Jakarta contributed to this story.