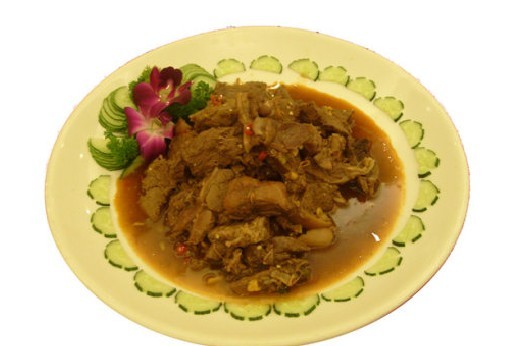 No.12 Zhu Ling Lai Fu
Restaurant: Heng Dong Bai An Restaurant
Producer: Chen Li-qing
This dish borrows the name of Zhu Ling Hole and its relation with the local people's custom; "Lai Fu" is the reputation of the dog. One of the Eight Immortals Scenery in Hengyang is to appreciate poetry in Zhu Lin Hole. One day, while one of the Eight Immortals in the legend, Lv Dong-bing was appreciating poetry in the hole, he was greatly surprised by one of the dogs running out. From then on, the dog meat has become one of the best dishes at table, which spread the flavor throughout the whole city. Now Hengdong chefs take full advantage of domesticated dog meat to cook the delicious dish, which features in soft meat, good flavor, rich nutrition.