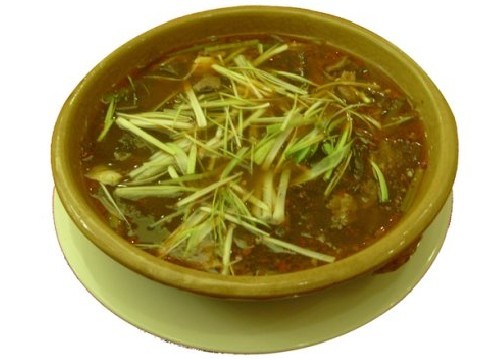 No.10 Empress Auspicious
Restaurant: Zheng Xiang Immortal Dragon Restaurant
Producer: Yang Zhong-qiu
Empress auspicious is commonly known as Zha Jiang false mutton. In Zhajiang Town Hengyang County, the unique taste of local pepper-type, is an important seasoning in cooking Zha Jiang false mutton. Such pepper is warm but not dry, and its taste is not too heavy, which can be accepted by local people. According to legend, Song Hui-zong, the King in Dynasty was once captured by Jing soldiers, while the Empress took refuge in Zhajiang Town. When arriving here, she caught a cold and felt ill. So the local authorities ordered local chefs to do a dish to drive out her cold feeling. As soon as he got the order, Local chefs quickly picked the best meat from head of pork and dried peel of red potato, combined with the local pepper soup. They cooked "zhajiang fake meat" for the Empress. After the instant sweating, the Empress felt relaxed and comfortable. From then on, "zhajiang Fake Meat" has been handed down to this day.